Young Living has the highest quality, exclusive line of therapeutic-grade essential oils and supplements that can be used for both animals and people.
All products are derived from wild-crafted or organically grown plants. All supplements and essential oils are bio-available. No chemicals, artificial flavors or colors are added to these products.

View Young Living's Virtual Catalog: essential oils, nutritional supplements, skin & body care, Thieves line and animal care products, in the convenience of your home. View our essential oils products we have available for purchase online.
Place orders by following the order process guidelines or contact Animal Intuition to help you determine which Young Living therapeutic-grade essential oils, nutritional supplements or care items are right for your animal companion.
Young Living's products can help you and your companion achieve your health goals or address a specific issue for your animal.
---
of using essential oils
Boost immune system
Reach optimal health levels
Manage pain
Suppress auto-immune diseases
Fight allergy, sinus and respiratory issues
Detoxification
Soothe anxiety
Animal Intuition works closely with you to determine the right combination of Young Living therapeutic-grade essential oils for you and/or your animal companion. These options can be reviewed with your medical provider or veterinarian.  
Contact Animal Intuition today to help find natural options for the care and maintenance of you or your animal companions. You may also view a full listing of Young Living's products at your convenience.
Our Favorite
Here are some of Animal Intuition's favorite therapeutic-grade essential oils and some tips on how to use them. For best results, dilute when applying topically. Contact us for a consultation to develop a regimen and find out how to use them properly with your animal companions.:
Massage around ears, back of neck, apply on collar or inside halter for calming animals. 
Reduce or minimize scar tissue by applying to affected areas.
Relieve dry, chapped or sunburn skin by applying on affected areas.
Diffuse to minimize seasonal reactions to pollen and dust mites. 
Use as a sleep aid; rub a drop on your palm and smooth over dog / cat bed or diffuse.
Put a drop on a cloth and tie inside stall on water bucket or stall bars to help the horse relax and/or sleep in stall.
Rub on the temples, forehead, over sinuses (avoid eyes) and back of neck to help sooth head pressure and congestion. Dilute with V-6 oil.
Add to horses water to encourage drinking. 
Diffuse for energy and mental clarity.
Inhale before or during physical activity to reduce fatigue. 
Spritz peppermint flora water over your horse or dog before and/or after workout to relieve tired and sore muscles.
Ingest by adding to dog or horses feed to help with digestion.
Ingest for extra immune protection.
Diffuse to eliminate bacteria, germs and odors in the air.
Put a drop on a cotton ball and place at desk, in backpacks, gym bags, tack lockers, trailers, campers or anywhere the air needs cleaning.
Add to water when cleaning for safe, non-toxic option. Also, check out the Thieves Cleaner.
Apply daily to repair sun damage, renew healthy looking skin and minimize breakouts. Dilute with V-6 oil.
Drop onto minor cuts, scrapes and bruises to reduce redness and discomfort. Dilute with V-6 oil. 
Massage onto temples and back of neck for stress relief. 
Diffuse to enrich prayer, mediation, Reiki or bodywork. 
Apply directly to tumors. Dilute with V-6 oil.
Place on insect bites to cleanse and soothe itching.
Apply to blemishes to help clear skin.
Combine with water in spray bottle to use as insect repellent that is safe and natural for you, your kids and pets including dogs, cats and horses.
Use weekly as a supplemental preventative for flea and tick control on your cats and dogs.
Add 2-3 drops in with a cup of baking soda and mix into cat litter for natural odor eliminator.
Diffuse to clean and neutralize odor.
Rub on bottom of feet, shoulders or back of neck before bed to get restful sleep or before stressful event.
For horses, apply around base of ears, inside halter or on chest to reduce stress and anxiety.
Apply to dog beds, inside collars, tips or base of ears of dogs or diffuse in home to help ease their anxiety.
Best used on dog collars and halter diffusers for your dogs and horses
Apply directly to sore, swollen or pulled muscles to reduce inflammation and as a natural analgesic. 

Do not apply to open wounds. 

Dilute with V-6 oil. Use on areas with arthritis, bone pain, bruises and soft tissue injuries.
Rub on bottom of feet or back of neck to help align and balance the body's systems. 

Use after a chiropractic adjustment along spine or adjusted area to help maintain the adjustment. 

Apply on wrists to encourage confidence and courage.

For animals, diffuse or apply to inside of halter, collar or around ears.

Massage into neck and shoulders to release tension.
Horse Treats Recipe
All natural and a fun way to use essential oils!  Make a fresh batch for your equine friends. All ingredients are fresh, so only make what you will use in a weeks time.
Dog Biscuits Recipe
Make your own treats and infuse essential oils that are good for your dog's digestive system!
About Essential Oils and Animals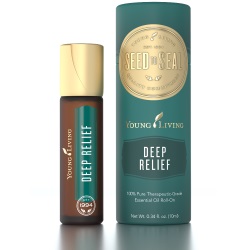 "Jenny, Thank you for the Deep Relief! It has been wonderful for my aches & pains; I can really feel it go to work deep in the muscles, relieving the pain & inflammation. This product really works better than any other product I've used. The roll-on is great for applying so I don't have to worry about accidentally touching my eyes after using it and I also like the fact it doesn't smell so overwhelming like other over-the-counter products. My son who plays football loves the Deep Relief for his tight muscles and soreness after practices & games. Thanks again!"
Brian G., Lakeville, MN