We are devoted to providing powerful and compassionate bodywork to give your dog the best healing therapy.
We know you want the very best for your dog so he can live out an active and healthy life with you. With dog massage you can spoil your pooch while maximizing options to support his or her overall well-being. As a leader in the pet wellness industry, Animal Intuition utilizes our years of training and experience to help bring out the best in your canine companions physically, emotionally and behaviorally. So, whether you want help maintain their health, spoil them, address issues naturally, optimize their performance, and/or support them emotionally, be assured that we will embrace you both with compassion and dedication to work towards your goals.
Animal Intuition provides unique and powerful healing sessions, combining various massage and healing modalities based on what your pet needs at that time. Additional services can be incorporated in such as, Reiki, aromatherapy using Young Living therapeutic-grade essential oils, acupressure, and stretching exercises to provide the most beneficial experience for your animal companion.
Animal Intuition is certified to provide therapeutic sports massages for animals, serving in Minnesota and Wisconsin. *
Your dog will benefit from massage in many of the same ways we do as humans. We often peform exlusive dog massages for canine athletes performing to their limits, those that have current or past injuries or an illness, are under stress or tension, and the geriatric dogs in their elderly years. These are a some of the most common cases that often come through our door, but all dogs can gain from the experience of a therapeutic dog massage. Read about the top ten reasons for dog massage for other examples.
The best practice is to incorporate a preventative maintenance schedule for your dog's massages. We come up with a plan that focuses on attaining your goals and optimizes your dog's health.
---
Improves circulation and promotes healing of injuries
Relieves muscle spasms
Secretes toxins 
Lubricates joints and can help ease arthritis
Reduces stress and tension
Increases range of motion
Enhances muscle tone
Promotes positive disposition
Increases mental clarity required for training/performance
Canine Massage for Seniors
Most clients will contact their canine massage therapist when their companion shows the signs of aging.
Dog massage therapy is especially helpful for senior pets to keep them comfortable and mobile. It's a time when you notice them slowing down and having challenges with simple daily tasks like laying down, climbing stairs and getting in/out of the vehicle. It's also a time when our clients often find that they are desperately seeking support for their dogs and for themselves; to guide them through the emotionally charged chapter of their beloved pet's life. As a top animal wellness center in our area, we are full of knowledge and experience to share with you as we embrace you with compasson and hope.
---
--- ---
---
Preparing for a Canine Massage
When coming to our office, we provide a quiet, safe environment to perform your dog's massage. If we are coming to you, it is best to perform a massage when your companion feels relaxed and comfortable environment. Regardless of the location, dogs will act like dogs, so we encourage you to be prepared to help keep your dog focused or occupied during the massage. Read our blog for some tips. Also, another dog can be brought into the massage as a partner to help if your dog does not like being alone.

Please feel free to contact Animal Intuition prior to the appointment if you have any questions or concerns about the preparation for the massage or what will happen during the massage.
We service most of the Twin Cities and outlying suburbs in Minnesota as well as western Wisconsin. We have offices in Eden Prairie, MN and Andover, MN where we provide luxury healing and bodywork services, including dog massage.
Mobile / in-home services are available.
We concentrate our canine massage in the following cities:
Edina
Minnetonka
Wayzata
Eden Prairie
Hopkins
St. Louis Park
Minneapolis
Andover
Ham Lake
Coon Rapids
Blaine
About Equine and Canine Massage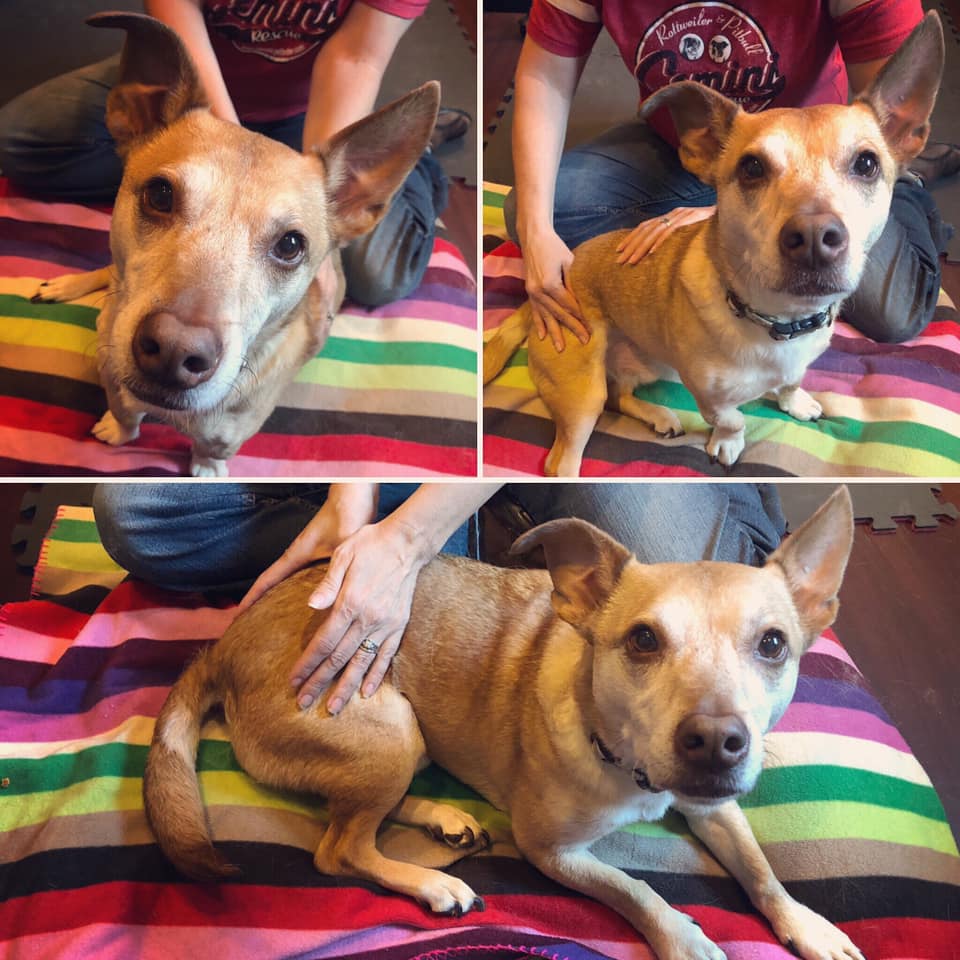 Jenny has been giving my dog massages for a few months now. He LOVES Jenny! He has a history of not enjoying body handling but massages are a different story- he leans right in. We are now pairing massages with chiropractic treatment to address Auggie's back pain and just one combo has proven to be so effective.
Allison l, Minneapolis, MN