Resilient Movements For Grief
June 5, 2021 @ 9:00 am

-

10:15 am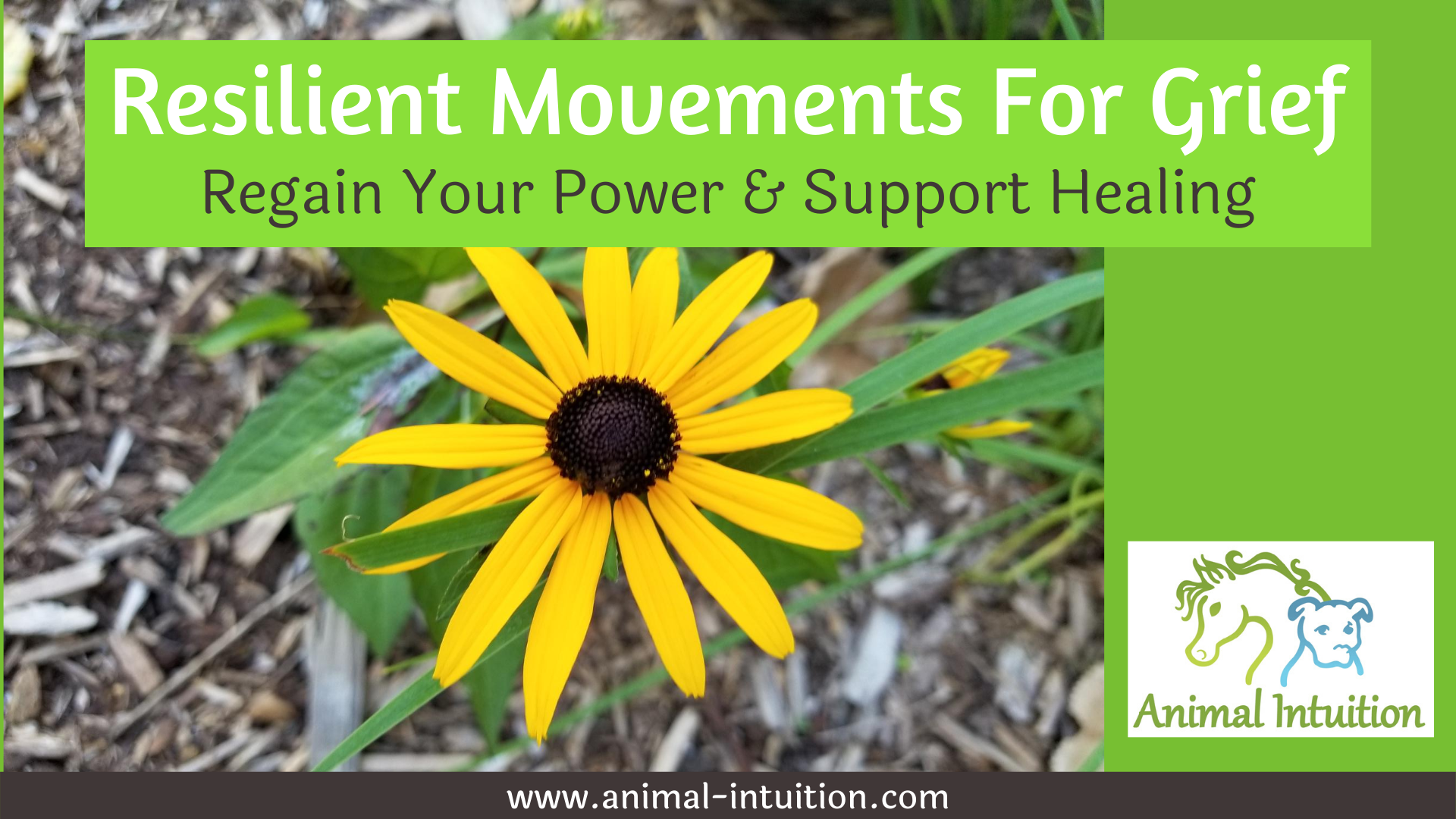 RESILIENT MOVEMENT For GRIEF

Regain Your Power & Support Healing
***ONLINE CLASS: Take from the privacy and safety of your own home.
Animal Intuition has created a gentle and supportive healing opportunity for those who have experienced a loss or are experiencing anticipatory grief by partnering with Julia Kranz, LGSW to teach this Resilient Movements Class.
The Resilient Movements Class is a way to help release trauma/grief for those that are hurting, be it from anticipatory grief or from loss. The class is taught by an instructor certified in trauma informed yoga. While the class may appear to mirror that of a traditional yoga class, it is specifically designed to support healing from the trauma of grief. Trauma is stored in the soft tissue of our body's and if not released, it often manifests into disease, illness or emotional despair.  We know how much it hurts when we're losing our loved ones (pets and humans) and how easy it can be to get stuck in the tragedy of their diagnosis and of their loss.
Exercises will be accessible for all and will include breathing exercises, simple movements and mindfulness practices all within a safe environment. The philosophy behind the class is to help you notice your body so you can:
– Release Tension
– Reduce Arousal
– Tolerate Sensation
This results in heightening your body awareness so it can focus on regenerating and healing from your trauma. This class is designed to be supportive, uplifting and empowering. Come, be among us in a safe, supportive, and private setting.
About Julia:
Julia Kranz, LGSW is a licensed social worker and has a special certification in trauma-informed yoga.
There are a couple exciting announcements for this class!
LIVE LIKE ROO
Earns Funds:  A portion of every registration for this class will be donated to the Live Like Roo nonprofit organization.They help provide financial assistance to families with pets facing cancer.
Many of you that know the founder, Jenny Gott, knows her love for animal advocacy and volunteering with animal related nonprofits.  Not only has Jenny personally been a recipient of Live Like Roo care packages for her dogs, Emily & Cajun, she knows that many of you too are facing or have faced cancer with your pet.  This is why she thinks it's such an important and meaningful opportunity to give back to the pet community.
MIKI SPEER
:  Miki Speer, song writer, musician, author, and talk show host of
The Healing Half
will join us to sing a beautiful song about honoring your grief and healing from your loss.
Registration:
– $35/person
This is an exclusive online class. Upon registration and payment, you will receive a class confirmation.
Special Notice: We've taken special care and are compelled to assure you that this class is NOT designed to access emotions or traumatic memories. We recommend these important types of activities be directed to trained professionals in counseling and mental health.