Pet Perspectives Part II: Learn To Listen
April 24, 2021 @ 9:30 am

-

4:00 pm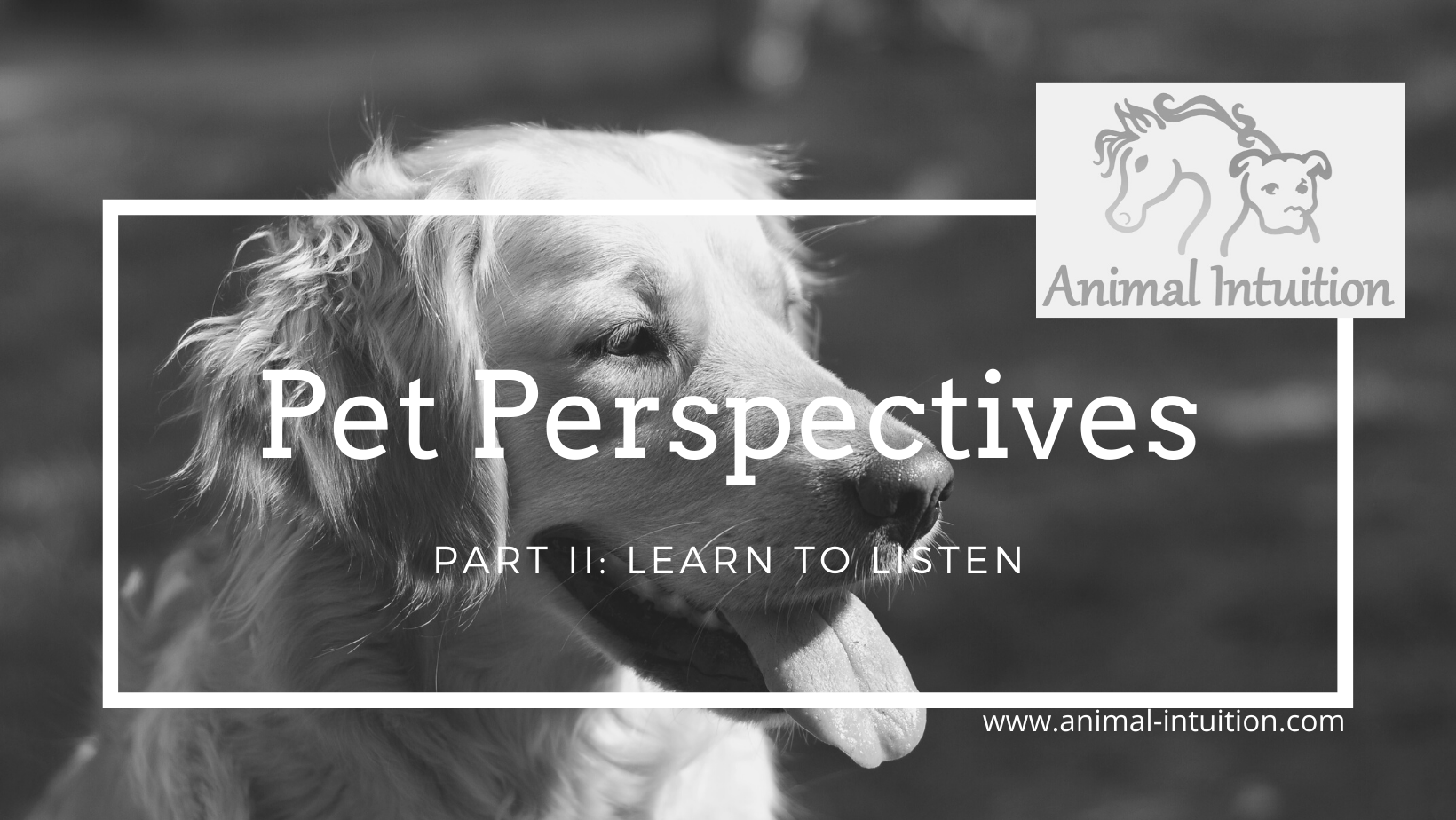 Is the Pet Perspectives Series is for you?
Do you want to deepen your connection with your animal?
Understand them better?
Help bring out the best in them?
Learn to communicate effectively?
Help bring out the best in them?
This three part Pet Perspectives program is designed to help you understand your pet's view point and learn new ways to communicate with them to enhance your relationship and understanding of each other in a compassionate and meaningful way.  In the series you will learn about how intuition and thought processes impact your interaction and how it can be used to help modify behavior, provide support and deepen your relationship with your pets. We dive deep into techniques and implementation of these practical applications that broaden your understanding of yourself and your pets. Learn in a supportive and interactive class infused with compassion and love to gain powerful results.
How does your dog know if you're going for a W-A-L-K or leaving when you're putting on the same pair of shoes? Besides learning a routine, they are often picking up on your intentions.  What if it could help bring positive changes, deepen your connection and improve your relationship with your pet?
Learn how clearing distractions, positive thinking and setting specific intentions and opening up your intuition can help build a bond as well support some of the tough challenges we often face with our animal companions such as:
Separation Anxiety
Leash Reactivity
Potty Accidents
Family and Integration with Pets
Trailer Loading
Barn Sour
Changing Homes
Trauma & Trust Issues
Big Life Changes
Part II: Learn to Listen
Pet Perspectives Series, Part II will introduce you to techniques to help you open up your intuition and use all your senses to foster a larger communication channel with animals. Learning to listen with more than your ears and more than what meets the eye. You will have the opportunity to participate in exercises throughout the day, giving you practical experience using what you've learned in an interactive and supportive atmosphere. You will gain an understanding that intuitive communication is real and that anyone can learn to do it.
Prerequisite: Pet Perspectives Part I
Pet Perspectives Class Part II
Date: Saturday: April 24, 2021
Time: 930a-4p
Location: Virtual
Tuition: $157.97
Take the Pet Perspectives Class Series for $423.97